If you've been keeping up with international news, you've probably heard about the protests happening in the Chilean capital of Santiago right now. I first heard about these protests from a fellow student I had met while studying in Buenos Aires, Argentina this summer. She's currently in Santiago, and on her Instagram she's been posting photos and videos of streets filled with flames and heavily armed police officers and military troops. Seeing these protests documented by first hand accounts from someone I personally met was an extremely unique experience. It made these protests tangible, they felt personal. Chile, like its neighbor Argentina, is often considered to be one of the safest countries and most stable contemporary democracies in Latin America. As of October 24th, the protests in Santiago have been reported to reach a death toll of 18.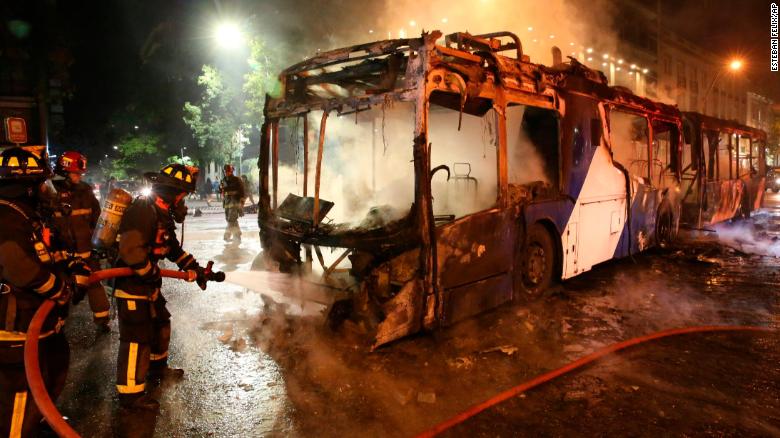 It's fitting that I first learned about these protests from social media, which attests to how citizen-driven these protests are. The catalyst that sparked these protests was the rise in Metro de Santiago fares enacted by President Sebastián Piñera, preceded by years of rising political, economic and social unrest. When I learned that the tipping point for these protests was the raise in metro fares, I was immediately reminded of Boston's recent fare increase of the MBTA. While there was definitely a public outrage, Bostonians didn't organize to protest in the same way that we are seeing all around the world.
It's not just Chileans that have demonstrated unwavering activism in recent years. The Mouvement des gilets jaunes in France and the current Lebanese uprising are examples of citizens advancing effective change by putting pressure on their leaders through protests.
A main issue in American democracy is that Americans often put too much trust in our capitalistic systems. We are either overly cynical, apathetic, or trusting towards those in power, depending on our degree of political engagement and how those leaders align with our own beliefs. We are often naïve and lack healthy skepticism about our government's intentions. However, the transition from dictatorship to democracy in many Latin American countries has instilled a sense of empowerment to uphold their civic duties. As a response to the protests, President Piñera recently enacted a curfew law for Chilean citizens, reminiscent of the regimes of many Latin American dictators, including former Chilean dictator Augusto Pinochet. 
Chileans continue to protest in Santiago, despite Piñera's attempts to silence them. Americans should be observing the resilience, bravery, and dedication of these protestors all around the world. We often view violent uprisings against the government as an indicator of an unstable or dangerous society, but the United States promotes violence in so many other ways. As the country with the highest military expenditure in the world, we have no problem saluting the bravery of our troops overseas. I also believe it is equally important to support those fighting for chance through protesting. I'm not advocating for violent protests in the United States, but I think that we as Americans could learn something about the power of the protest from these movements happening all around the world.